About The Author
Stuart Muszynski has been a business and community leader in Greater Cleveland for over 25 years. His career was interrupted when he became ill with Chronic Fatigue Syndrome in 1992. His illness and recovery helped him understand the relationship between beliefs, actions, overcoming obstacles and love.
These insights and research into his family's past led him to co-found Project Love® Remember the Children Foundation with his wife Susan Muszynski, Ph.D in 1994. Project Love® promotes kindness, caring, and mutual respect in teenagers and adults via leadership training seminars, community recognition events, and issues-based TV programming.
To date, Project Love has trained over 31,000 students and 1,600 educators in 85 schools. Each year, those students impact 85,000 others.
In addition to work with Project Love, Muszynski conducts "Goodness Through Grandparents" workshops soliciting grandparents' life stories at middle and high schools, assisted living facilities, colleges, town halls, and other venues. He has written numerous articles on education, character, and values and is available as an expert speaker on those issues.
Muszynski began research on his grandmother's life story as a freshman at Hamilton College where he graduated in 1976. He continued that research through five successive trips to Poland to meet and thank his family's rescuers and their descendents. Searching for Values is the result of that research and his first book.
Stuart has been married to his high school sweetheart Susan for 30 years. They live in Cleveland, Ohio and have two children.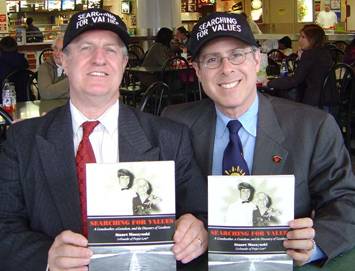 Leonard Teski and Stuart Muszynski at the airport on their book tour.